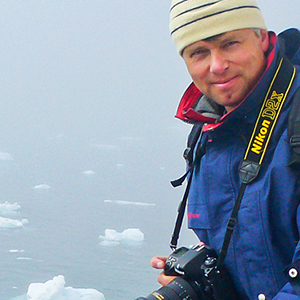 Henrik Ramsing Kristensen, NSMiF/p – Denmark
Et aftenskolekursus i fotografi, vinteren 1987, startede  min foto-interesse, og interessen for at fastholde "gyldne øjeblikke" har holdt ved lige siden. Jeg har altid været tilknyttet en fotoklub; de første år var det hos den lokale fotoklub i Fredericia, og da den endte som kaffeklub og derefter lukkede, gjorde jeg skiftet til OFA i Odense.
Motivmæssigt er jeg åben for mange emner og motivområder. Det er jagten med kameraet på de øjeblikke, der giver de gode billeder, det drejer sig om. De gode, sjove, mystiske, kantede, action fyldte, umulige, perfekte øjeblikke, hvor lyset, situationen, eller andet er der, og for mig gør det gode billede. Jeg søger det i naturen, ved sportsarragementet, på markedspladsen, alle steder hvor gode billeder findes eller kan opstå. Er det mennesker jeg fotografere, er det ikke som traditionelle portrætter, men gerne i de specielle situationer og aktiviteter de nu er i gang med. Nogen gange med kontakt til personen andre gange uden.
Jeg er lidt et konkurrence-menneske, og har altid gerne deltaget i diverse fotokonkurrencer. Først meget på klubplan og nationalt  og nu siden 2014 også internationalt. En ældre ærestitel fra 2001 som AFIAP skal have et spark et niveau eller to op. Internationalt deltager jeg i fotosaloner sammen med fotogruppen Stella Polaris og lidt medaljer og diplomer falder der da af hen ad vejen.
Fotoudstyret er Nikon og billederne behandles først i Photoshops raw konverter og derefter normalt kun beskæring og eventuelt en lettere behandling i PS. Dog ingen regler uden undtagelse, for nogen gange skal der bare prøves sjove ting af i PS og så kan timer blive brugt med billedbehandling.
Fotografering er for mig en stor spændende fritidshobby, som jeg heldigvis har en del tid til at dyrke mellem mine arbejdsuger på en olie/gas platform i Nordsøen.
See more images: