Sept 20: All status updates can now be found on your author profile on the upload site. This will be updated at a minimum once a week.
Sept 17, Technical issues: Our website(s) have been moved by our ISP to a new platform. In that process, we have experienced some technical issues with our upload site, and are currently working with our ISP on solving those. The registration form is now working as it should, and we will post back when we are confident that all issues have been resolved. Thank you for your patience.
The Nordic Society of Photography (NFFF) is bringing something entirely new to you this autumn. The Nordic International Small Prints Circuit is the first of its kind – 4 judgings done in 4 separate countries!
This has not been done before as a small print event, so please back it up and send us your very best prints in either colour or monochrome. There are not that many small print exhibitions left, and here you get four judgings with top judges, meaning four chances for your prints to be successful with the same submission.
This is your best chance to get those important print acceptances. Please remember that FIAP has reinstated the requirement for print acceptances for the AFIAP and EFIAP distinctions.
Sections:
Small Colour Prints (PSA PPDC)
Small Monochrome Prints (PSA PPDM)
Entry fee:
US$ 38 / € 35
Entries for which no or insufficient payment has been received will not be judged.
Payment via PayPal only. PayPal address: payment@nordic.photo
Salon calendar:
Submission closing date: October 1, 2023
Judging: Oct. 14–Nov. 26, 2023
Notification: December 10, 2023
EDAS sent : December 22, 2023
Awards sent: January 25, 2024
PDF catalogue on website: January 25, 2024
All prints must be printed on A4 paper (29,7 x 21 cm/30 x 20 cm/equivalent US standard), and digital copies must be registered via the entry system on nordicupload.photo
The exhibition will be conducted in accordance with requirements from the below-mentioned organisations. All acceptances will count for PSA, FIAP, GPU, ISF and NFFF distinctions and for inclusion in PSA "Star Rating" and "Who's Who". All acceptance eligibility shall be in accordance with the PPD Star Ratings or the Galaxy/Diamond Ratings requirements as appropriate. Each photo can be presented in only one section.
PICTURES CREATED BY ARTIFICIAL INTELLIGENCE ARE NOT ALLOWED IN THIS SALON!
It is reminded that all parts of the image have to be photographed by the author who is holding the copyright of all works submitted.
Offenders will be sanctioned for life!
Read the full requirements and rules here: Conditions of Entry 1st Nordic International Small Prints Circuit 2023 (PDF).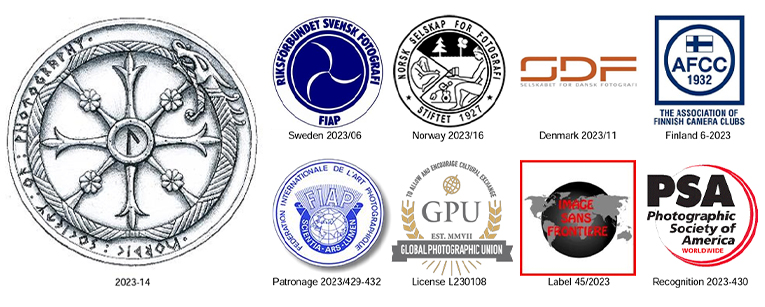 Awards
In each section will be awarded:
FIAP Gold, Silver, Bronze
PSA Gold, Silver, Bronze
NFFF Gold, Silver, Bronze
GPU Gold
ISF Gold
RSF Gold
NSFF Gold
AFCC (SKsL) Gold
SDF Gold
6 FIAP Ribbons
6 PSA Ribbons
4 ISF HMs
2 GPU ribbons
6 NFFF HMs
Awards, continued
In the colour section of each salon, a Lanterna Magica gold medal will also be awarded to the best Fantasy/Horror/Ghost story-themed image.
Best Nordic entry in each salon.
FIAP Blue Badge, in each salon, to the author with the highest number of total acceptances.
1 award for the Best Author overall.
The medals will be engraved in accordance with FIAP and PSA regulations. A total of 325 awards!
Instructions for sending prints
All prints must be printed on A4 paper (29,7 x 21 cm/30 x 20 cm/equivalent US standard).
Prints larger or smaller than the specified sizes will not be submitted for judging.
Prints must be UNMOUNTED and sent flat, NOT as a roll!
Prints will not be returned! They will be destroyed after the exhibition.
Information and contact:
Exhibition General Chairman:
Leif Alveen,
+45 61 285 285,
member3@nordic.photo
Address for sending prints:
Leif Alveen
Halsvej 248
Vester Hassing
DK-9310 Vodskov
Denmark
Tel: +45 61 285 285
Danish jury:
Bjarne Hyldgaard, MFIAP, EFIAP/d3, NSMiF/d1
Kim Kristensen, EFIAP, NSMiF/p, MSDF
Jonas D. Madsen, EFIAP/s, NSMiF/p
Alternate: TBA
Chairman, Denmark: Leif Alveen, GMPSA, EFIAP/d1, NSMiF/p
Swedish jury:
Bengt Persson, AFIAP
Jonas Björk
Lennart Hansson
Alternate: TBA
Chairman, Sweden: Nils-Erik Jerlemar, EFIAP/d3, ESFIAP, GMPSA, NSMiF/p
Finnish jury:
Kari Kumpulainen, EFIAP, NSMiF/p, SKsLSM
Petri Damsten, MFIAP, EFIAP/p, NSMiF/d2
Marc Sabat, EFIAP, NSMiF/d1, NMiFM2020
Alternate: Wille Markkanen, NSMiF/b
Chairman, Finland: Ari Haimi
Norwegian jury:
Jan Standal, EFIAP
John Vint, AFIAP
Endre M. Lidal
Alternate: TBA
Chairman, Norway: Roald Synnevåg, MFIAP, EFIAP/d3, ESFIAP, GMPSA, NSMiF/p
The photo above is: "Pilot 2" by Petri Damstén, Nordic Champion of Photography 2023, Monochrome